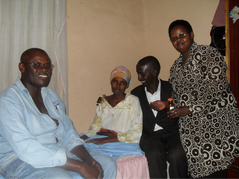 Back in 2010, I went to see this lovely woman seated here, Dina.  At the time she was living with her brother in Kigali, close to a local hospital.  She was poor, from a rural village, and dying with Gastric cancer.  Like like so many people, she presented for care at a late stage in her illness, and once it was realized there was no hope for cure... She was sent home with only Acetaminophen.   At that time, there was no formal home care program in Kigali, except for the small fledgling effort of my friend "nurse Grace."  It was with Grace, and Dr. Dan that we went to see Dina.
We found Dina lying listless in the back room, moaning softly.  Well cared for and loved by her brother, but profoundly suffering.  Her beautiful sprit imprisoned by pain.  
We asked Dina what she was hoping for...And I'll never forget her words...She said in Kinyarwanda, "If this medicine can help just a little, maybe I can sit up and sing to God, and maybe...maybe I can return to my village to see my children one last time."
We gave her only a teaspoon (about 5mg) of a morphine we had managed to purchase at a local hospital where we miraculously obtained the only tablets available - just a small number of 10mg tablets. Of course we purchased as many as we could, then crushed and dissolved them in a water solution, as we had heard her swallow was worsening.    
Well, 20 minutes after the morphine, Dina's countenance lifted, she smiled a little, and then whispered softly in Grace's ear.  At that point, slowly and deliberately Dina sat up and sang, as if her spirit had been somehow liberated.  
"Imana Iman' irabize ~  Imana Iman' irabize" God will provide (what man can not)"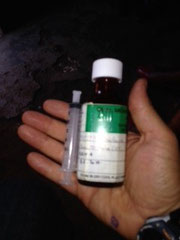 The bitter irony is that we human beings do know how to effectively and safely control cancer pain.  Yet as Ronald Piana so poignantly articulates in his NY Times article cited here,  
"Untreated cancer pain is a human disaster not unlike famine;
its victims are starving for relief." 
At Hospice WIthout Borders, We're doing our best to change that, and as you can read in our prior posts, after 4 years of sustained effort, the Rwandan Ministry of health is now manufacturing morphine solution for people like Dina, whose spirits are starving for relief.  Please read Mr. Piana's inspiring article, and join us in our effort insure that every human being has equal access to pain control.  No one should be "Dying Without Morphine!"