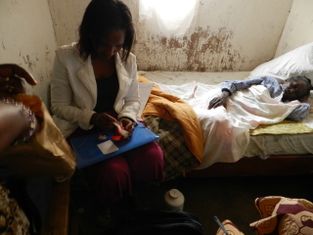 Tomorrow, February 4th 2015 is World Cancer Day.
Of the mottos this year, treatment for all, and focusing upon quality of life, are major themes.  
Please remember, as our global community of cancer researchers and clinicians strive to develop novel therapies and even cure cancer tomorrow, we can treat and beat cancer pain today!
Using safe and effective opioid analgesics, such as oral morphine, which costs on average 15 cents a day in an average patient, we can control pain in nearly 100% of people with cancer and HIV.   Yet every year, at least 2.4million people worldwide, living with end stage cancer, die in pain needlessly.

The good news is ~ It doesn't have to be that way!  It's well known that when we take care of cancer pain and provide comprehensive palliative care, as our nurse Peace is doing here in Kigali, peoples' lives are dramatically improved and they begin to look forward to living, rather than focus on dying.  What is not widely appreciated, is that when we take care of pain though palliative care services, people live longer!  When you stop and think about it, that actually makes a lot of sense.  No one wants to live with agonizing pain.  But when the pain is controlled, regardless of the status of the cancer, people once again make meaning, and focus on living!
Pain Relief is a Fundamental Human Right that offers the prospect of dignity and hope and an opportunity for peace, even when cure is not possible!  Please join us today!